Workers told 300 jobs will go with closure and franchising of 37 more crown post offices, and cutting of 127 financial roles.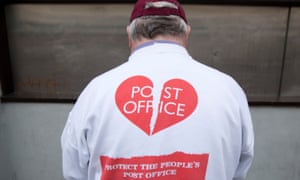 The Post Office is to close and franchise a further 37 of its flagship crown offices, with the loss of 300 staff, and cut 127 financial specialist roles, workers have been told.
The Communication Workers Union said that, on top of the 62 branches announced for closure and franchise in 2016, the job cuts brought more "misery" to Post Office workers and their customers.
The general secretary, Dave Ward, said: "The latest round of closures is further evidence that the Post Office is in crisis and that the board of the company, backed by the government, is simply pursuing a strategy of slash and burn.
"Today's announcement comes less than three weeks after the closure of a major government consultation on the future of the Post Office and sticks two fingers up to everyone who took part in this."
He said members of the public had sent 75,000 signed postcards to the government calling for an end to the closure and franchise programme: "The Post Office and the government have completely ignored their views."
The union has staged strikes in protest at the closure of crown post offices – the larger branches usually sited on high streets. In one protest, outside the business department before Christmas, sacks full of postcards from the public were delivered supporting the union's campaign.
Ward said: "While the government spent yesterday talking about building a shared society, today's announcement pressing on with the destruction of yet another public service shows we are reaching the point where we will have little left to share.
"The CWU will not accept this and we will be stepping up our political and industrial campaign to fight for the future of the Post Office."
The deputy general secretary, Terry Pullinger, said: "The Post Office network has been reduced by more than 50% over the past 30 years and continues to be run down. It requires a proper business plan for growth and investment, which is being ignored.
"Its IT platform is being held together with sticky tape and it continues to outsource and close its outlets, yet they dress it up as a success and honour its directors.