Age UK report calls for urgent action, including cash injection in spring budget and development of long-term plan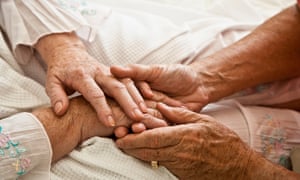 Social care in England is at risk of imminent collapse in the worst affected areas unless urgent steps are taken to address the crisis engulfing the sector, Age UK has warned.
The charity's latest report on the healthcare of older people calls for a cash injection into the adult social care system in the spring budget and the development of a long-term solution to a problem that will otherwise become more acute.
Analysis previously published by Age UK suggests almost 1.2 million people aged 65 and over do not receive the care and support they need with essential daily activities such as eating, dressing and bathing.
That figure has shot up by 17.9% in just a year and almost by 50% since 2010, with nearly one in eight now living with some level of unmet need, it says.
Age UK's charity director, Caroline Abrahams, said the report makes for "frightening reading", adding: "Unless something changes the crisis will certainly deepen this year and next, and we think there is now a real risk of a complete collapse in social care in the worst affected areas. If this happened it would be a disaster that would threaten the health and even the lives of the older people affected. It would also greatly intensify pressure on our hospitals.
"Some older people and their families are already telling us that they simply cannot find any carers where they live, and we are also hearing of vulnerable older people receiving council-funded care whose help has been significantly reduced, leaving them to manage alone for many hours at a time."